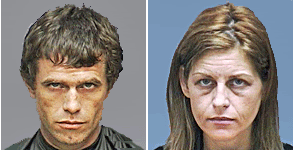 Historic City News learned that a Palm Coast couple is facing multiple charges, including child neglect, after Flagler County deputies discovered a methamphetamine lab in the garage of their home Sunday afternoon.
Sheriff's narcotics investigators were called to 14 Fanshawe Lane around 3:20 p.m. after deputies who were assisting with a Florida Department of Children and Families investigation found what appeared to be a drug lab operating in the garage area of the home.
The DCF worker was investigating an anonymous complaint that a one-year-old child was inside the home where drug activity was occurring.
Thomas Berry, 37, and Cynthia Kook, 34, are both charged with charged with manufacturing methamphetamine, unlawful possession of methamphetamine, unlawful possession of a controlled substance, possession of drug paraphernalia and child neglect.
Deputies entered the Palm Coast home with the DCF investigator who asked Kook to show her around the residence. When Kook failed to include the garage area, the DCF worker asked her to open the door and Kook complied. At that time, Berry asked that the garage be left alone and he turned off the light. Deputies then explained that the entire house needed to be inspected and Berry then allowed the access to the garage.
Sheriff's narcotics investigators responded to the scene after deputies found equipment in the garage area that is used for drug manufacturing. Investigators also found Berry's wallet and the receiver portion of a nursery monitor device nearby in the garage.
Narcotics investigators field tested a white powdery substance found on a table inside the home. The substance tested positive for methamphetamine.
"The greatest tragedy of this arrest is that a baby was being exposed to the dangerous drugs and chemicals that are involved in manufacturing this very deadly substance," said Flagler County Sheriff Donald W. Fleming.
Sheriff's investigators estimate the lab had been in operation for about six months.
Berry and Kook were being held in the Monday in the Flagler County Inmate Facility on $28,000 bond.
Photo credit: © 2010 Historic City News contributed photograph by Flagler Sheriff's Office
Share your thoughts with our readers >>