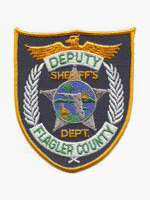 Flagler County Sheriff's detectives are investigating Saturday's shooting death of a 56-year-old Palm Coast man according to a police report received by Historic City News.
Sheriff's deputies responded to a 911 call around 12:13 a.m. to a home on 15 Riverview Bend North. They found James Allen Small in the second floor of the condominium. He suffered a gunshot wound to the eye. A witness told detectives that Small shot himself with a 9mm Ruger semi-automatic handgun.
"We are looking at all the circumstances surrounding this shooting before we close out this case," said Sheriff Donald W. Fleming. "We do know that there was a domestic disturbance just prior to the shooting, but we are looking for more details."
Detectives said Small lived in the Tidelands community for about six months.
Share your thoughts with our readers >>