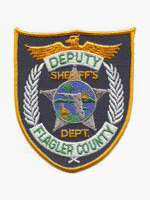 Public Information Officer Debra Johnson that the Flagler County Sheriff's Office is partnering with the Flagler County School District to host a meeting focusing on Internet Safety.
The meeting is scheduled for 6 p.m. on Wednesday, November 17th, at Buddy Taylor Middle School and will focus on all middle school students and their families.
Corporal Don Apperson and Deputy Erick Kuleski, both school resource officers, will be presenting a video sanctioned by the State Attorney General, called "CyberSafety". This is an eye opening video that gives parents and students a heightened awareness and appreciation for what dangers they might encounter surfing the Web. More programs will be scheduled throughout the year.
"As of Oct. 1, state legislators enacted new laws which carry tougher penalties for anyone found bullying or cyber stalking on the Internet. Parents and our youth need to know this is no longer considered "child's play". There are serious consequences that go along with these activities," said Flagler County Sheriff Donald W. Fleming.
Sheriff Fleming is referring to Florida statute 836.10 which states: "Any person who writes or composes and also sends or procures the sending of any letter, inscribed communication, or electronic communication, whether such letter or communication be signed or anonymous, to any person, containing a threat to kill or to do bodily injury to the person to whom such letter or communication is sent, or a threat to kill or do bodily injury to any member of the family of the person to whom such letter or communication is sent commits a felony of the second degree, punishable as provided in s. 775.082, s. 775.083, or s. 775.084."
As part of the evening's presentation, Sheriff Fleming will be distributing copies of "ComputerCop", parental monitoring software that enables parents with little or no computer skills to quickly see what their children have been doing online, including what MySpace or FaceBook photos they have posted. The program also will alert parents if their children have been chatting or emailing inappropriate content about themselves or others.
School faculties and law enforcement personnel have been dealing with issues associated with student on student harassment and bullying. Today's use of the Internet has taken the problem to another level with teens and pre-teens using social networking as a means to cyber stalk and threaten fellow students.
In addition to chat and images, "ComputerCOP" will also show parents web sites their child has visited that have been flagged as containing one or more of the 2,000 keywords or phrases for which the program searches. The program searches for keywords of a pornographic, drug-related, violent or hateful nature or word or phrases a pedophile might use to solicit a child online.
Share your thoughts with our readers >>