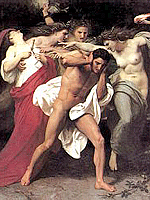 Flagler College's Theatre Arts department reported to Historic City News that they are gearing up to perform Sophocles' play "Antigone." Andrea McCook, an associate professor at Flagler, is overseeing the production.
Dr. Constantine Santas, professor emeritus in the English Department, translated an original English version of the play from Greek.
Following the story of Oedipus Rex, this play follows the Oedipal offspring. The two sons, Polyneices and Eteocles, were to share rule of Thebes, taking alternate years. However, when Eteocles refuses to give up his turn on the throne, Polyneices storms Thebes with the help of the Argive army. The brothers kill each other. Kreon, their uncle and now ruler, wanting to keep political order, says Eteocles is to be buried with honors, but Polyneices is to be left to rot in the sun. Antigone, daughter of Oedipus, defies her uncle's edict not to bury her brother.
Centering on the conflict between the need for law and order in the political arena versus the obligation and duty to familial and cultural heritage, the play has been the subject of philosophical debate for over 2,500 years.
McCook said while there are other versions of "Antigone" in English, this translation is one of its kind.
"In terms of the actual ideas and the meanings behind the sentences and the words, they are authentic to Sophocles who wrote this 2,500 years ago," said McCook.
The production highlights scene and costume design by Flagler theater students. Costumes were designed by senior Josh Winchester, and sets were designed by senior Jillian Burns.
"Antigone" will run at the Flagler College Auditorium, 14 Granada St., Oct. 22 and 23 and Oct. 29 and 30 at 7:30 p.m., and Oct. 24 and 31 at 2 p.m. Tickets are $10.
The Box Office opens the Monday prior to the first performance and is open between the hours of noon and 5 p.m., Monday–Friday. Call (904) 826-8600 for more information.
Share your thoughts with our readers >>