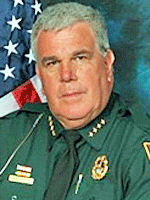 Flagler County schools resumed classes today and Flagler County Sheriff Donald W. Fleming has issued a reminder to motorists to stay alert for increased bicycle and pedestrian traffic.
"We will have Traffic along with Patrol Units in and around the school zones to keep the youngsters safe as they travel to and from school," said Sheriff Fleming.
Motorists are reminded that these zones are marked by flashing yellow lights and posted speeds are 20 miles per hour. Crossing guards also will be posted at several schools, so drivers should be aware of pedestrians and avoid blocking the crosswalks.
There will be a noticeable increase in pedestrian and bicycle traffic due to the elimination of bus transportation within one mile of the schools for kindergarten to 6th grade pupils. Middle school and high school students living within two miles of the schools also will have no bus transportation.
"Everyone needs to allow for a little extra time to travel through these school zones. Motorists also should be aware that youngsters will be riding and walking to school, so be extra cautious in your own neighborhoods as you travel to and from your homes," said Sheriff Fleming.
Motorists should also be aware that a "No Turn On Red" traffic control device has been posted at the intersection of Bird of Paradise and Belle Terre Parkway. The illuminated lights will be in effect during active school zone times.
School buses will be rolling out each morning and afternoon, so motorists should be alert for school bus stops. The fine for passing a school bus with its red lights flashing is $206 and three points on your driver's license.
Sheriff Fleming is asking parents to remind their youngsters to stand off the roadways as they wait for their bus. When the children return home, they should get off the bus and head home, being careful to walk on the correct side of the street.
"If we all follow basic safety tips, our students should have a safe school year," said the Sheriff.
Share your thoughts with our readers >>