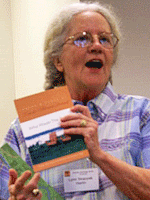 Chris Bodor, Owner of Poet Plant Press in St. Augustine, reported to local Historic City News that readers, writers, and illustrators enjoyed a full day of free events yesterday on the Campus of Flagler College as he participated in the Florida Heritage Book Festival.
One of the day's highlights was a morning poetry workshop hosted by three well known local poets.
"Carolee Bertisch, Lynn Skapyak Harlin and Sharon Scholl inspired the attendees by reading poems that they had each written while looking at paintings or photographs," Bodor said.
As part of the workshop, they invited the audience to create poems, on the spot, drawing inspiration from the same paintings.
"The number of participants in the audience was impressive, as well as the quality of the written work that was shared," Bodor said.
The workshop concluded with a spontaneous poetry reading as the eager poets shared their quickly written creations.
Photo credits: © 2010 Historic City News contributed photographs by Chris Bodor
Share your thoughts with our readers >>