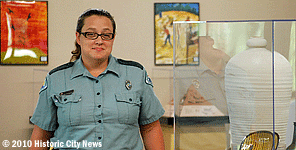 Park Service Specialist Terri Newmans met with Historic City News editor Michael Gold this morning on the occasion of the temporary shutdown of the exhibit hall at Fort Mose Historic State Park; being closed for renovation and installation of new indoor exhibits.
"During the installation process, the back portion of the park's visitor center will be closed," Newmans told Historic City News. "The front portion of the visitor center containing the classroom and restrooms will remain open, as will the park grounds."
The 1400 square foot exhibit hall will receive a complete makeover, which will include the installation of unique sail-shaped backdrops, a music system and other new decor.
"The exhibits should re-open to the public sometime near the end of next month," Newmans said.
When asked about the makeover, Derek Boyd Hankerson of St. Augustine, a former Fort Mose board member, commented, "We tried for the first time in 450 years to get our history accurate."
Hankerson served on the board of the non-profit citizen support organization, Fort Mose Historical Society, when the exhibits were originally planned. Fort Mose Historic State Park is located at 15 Fort Mose Trail in St. Augustine.
"We are sure visitors will be satisfied with the accurate portrayal of our history." Hankerson added, "Local artist will be included in the exhibit that will be displayed at Fort Mose."
Listed on the National Register of Historic Places in 1994, Fort Mose Historic State Park tells the story of Gracia Real de Santa Teresa de Mose, the first legally sanctioned, free African settlement in what is now the United States. Although nothing remains of the original fort, visitors may view the site from a boardwalk and learn about the site's history in the park's visitor center.

Created in 1935 by the Florida Legislature, the Florida State Park system has grown from eight to 160 parks in the last 75 years. Today, the Florida Park Service manages more than 700,000 acres of Florida's natural environment, including 100 miles of beaches, eight National Historic Landmarks and 39 sites on the National Register of Historic Places. Florida State Parks has been recognized by the National Recreation and Park Association as the nation's first and only two-time Gold Medal winner for the nation's best park service.
Photo credits: © 2010 Historic City News staff photographer
Share your thoughts with our readers >>