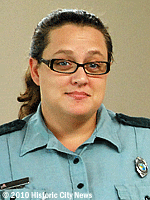 Florida State Park Ranger Terri Newmans announced to local Historic City News reporters that on October 30th, members of the St. Augustine Garrison will present an 18th-century, historical interpretation at Fort Mose State Historic Park.
The park will be open for this event on Saturday, October 30th from 10:00 a.m. – 2:00 p.m. The re-enactment and historical interpretation are free; however, regular park entry fees apply.
Established in 1738, the Spanish governor of Florida chartered Fort Mose as a settlement for freed Africans who had fled slavery in the British Carolinas. When Spain ceded Florida to Britain in 1763, the inhabitants of Fort Mose migrated to Cuba.
Although nothing remains of the fort, the site was listed on the National Register of Historic Places in 1994 for its importance in American history as the site of the first, legally sanctioned, free black settlement in the continental United States.
The St. Augustine Garrison is the largest member unit of the local non-profit organization, Florida Living History, Inc. They present Spanish military drills, black powder demonstrations, and camp life for educational and interpretive events at Fort Mose as well as Mission San Luis in Tallahassee, Fort Frederica National Monument on St. Simons Island and Fort King George State Historic Site in Darien, Georgia.
In addition, the Garrison, which was founded in 1977, presents historic programs in and for the City of St. Augustine and St. Johns County, such as the annual Guardia de Noche (Spanish Night Watch) military muster and parade, and the Changing of the Guard ceremonies in the city's historic Plaza de la Constitución. The Garrison is especially proud of having served as royal honor guard during the 2001 visit of the King and Queen of Spain to St. Augustine.
Photo credits: © 2010 Historic City News staff photographer
Share your thoughts with our readers >>