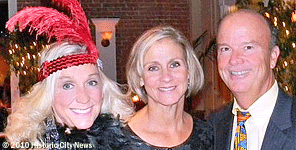 According to Communications Director Jay Humphreys, John W. Fraser, general manager of Ponce de Leon's Fountain of Youth, has been installed as the new chairman of the St. Augustine, Ponte Vedra and the Beaches Visitors & Convention Bureau Board of Directors.
Fraser's chairmanship was made official at the organization's annual dinner held last Thursday, September 30th, at The White Room; located downtown on the St. Augustine bayfront.
In accordance with the board's by-laws, Fraser moved from his vice chair position to chairman upon the expiration of the current chairman's term in office.
Fraser replaces San Sebastian Winery vice president Charles Cox, whose term as chairman expired on that date and who will now serve as immediate past chair.
Photo credits: © 2010 Historic City News photograph contributed by Elaine Fraser
Share your thoughts with our readers >>