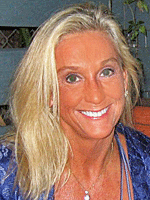 Historic City News has seen the Internet used to promote everything under the sun, and now, in a clever new twist, local businesswoman Elaine Fraser has created a Facebook page dedicated to her activities with Junior Service League.
"I am running for Queen for the wonderful Junior Service League in our beautiful City of St. Augustine," Fraser wrote. "I am focusing my efforts to raise money for the JSL and it causes."
Fraser says it is exciting for her to be a candidate for Queen, Junior Service League, 2010. She writes that it feels like an opportunity to honor all past members of the JSL and to say "Thank You" for their hard work and dedication in making JSL an organization that continues to make many positive contributions to St. Johns County.
The Junior Service League of St. Augustine, Inc. is an organization of women committed to promoting volunteerism, developing the potential of its members for volunteer participation in community affairs and demonstrating the effectiveness of trained volunteers within St. Johns County.
Fraser's grandfather was instrumental in the creation of the Restoration and Preservation Plan of St. Augustine. She plans on continuing the family tradition by focusing on Preservation and giving back to the community as a candidate, as well as celebrating St. Augustine ~ The Birthplace of a Nation!
The Junior Service League of St. Augustine, Inc. reaches out to women of all races, religions, and national origins who demonstrate an interest in and commitment to volunteerism.
Share your thoughts with our readers >>