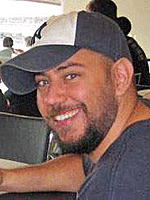 Tallahassee Police Department Public Information Officer David McCranie, told reporters with Historic City News that Florida Department of Law Enforcement is learning more today about the dead body discovered yesterday behind the Wingate by Wyndham hotel on SR-16 just west of I-95 and believed to be Vincent Binder.
Information was provided Monday, April 12th, which tipped FDLE investigators to the possible location of Binder's body by three Louisiana fugitives when they were captured.
After the discovery of the body yesterday, an arrest warrant was issued naming Kentrell Johnson, Quentin Truehill and Peter Hughes; alleging kidnapping charges. An autopsy was to be conducted last night, said a police spokesman. Both DNA testing and dental records cross-checking is being conducted to confirm the identity of the body.
29 year-old Binder was last seen by Becky Frady, her husband, David, and Becca Edwards at about 12:30 a.m. on April 2nd. Binder was said to be walking to his house on South Lipona Road in Tallahassee from the condominium on Airport Drive where his friends live.
FSU President Eric Barron released a statement today, saying, "The entire Florida State community is deeply saddened by the loss of graduate student Vince Binder, who touched so many lives as a teacher and debate coach in his college. It is difficult to comprehend the senseless nature of such violence, especially for a promising young person with a full life ahead of him. Our hearts are with Vince's family and friends, and we will provide the full support of the university to them as we mourn with them."
It is alleged by Johnson, that Binder initially approached the three Louisiana jail escapees at a nearby gas station — wanting to buy marijuana.
According to the arrest warrant, they forced Binder into a stolen truck so that they could rob him, instead.
The warrant suggests that Johnson, Truehill and Hughes, used Binder's credit card at ATMs and gas stations in Tallahassee, Madison, Jacksonville, and along I-95 south to Miami.
Johnson told authorities that he last saw Binder walking off with Truehill and Hughes after the men bought gas in Madison.
Share your thoughts with our readers >>