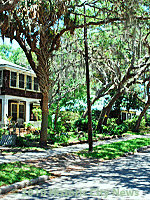 City of St. Augustine Department of Planning and Building officials tell Historic City News local reporters that they have recently completed the National Register nomination for "Fullerwood Park" which is roughly bounded by the marshes of Hospital Creek on the east, San Marco Avenue on the west, Hildreth Drive on the north and Macaris Street on the south.
The nomination for the Fullerwood Park Residential Historic District will undergo state review on July 12th at 1:00 p.m. in Tallahassee.
Fullerwood Park Residential Historic District is nominated for listing in the National Register of Historic Places under Community Planning and Development as well as Architecture.
Fullerwood Park's integrity of setting conveys an intact view of Florida's developmental history during the two boom periods of the 1920's Florida Land Boom and the post-World War II construction boom.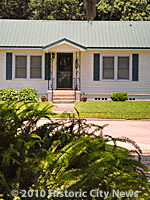 This subdivision symbolized the emergence of housing for the middle class in St. Augustine from 1914-19. Marketed to professionals and families, Fullerwood Park epitomized the American dream of home ownership with a spacious yard in a respectable neighborhood. The Fullerwood Park Residential Historic District retains a high degree of architectural integrity and is a well-maintained example of housing in Florida.
The area traces its beginnings as an early 20th-century streetcar subdivision located north of colonial downtown St. Augustine. In 1913, Charles M. Fuller and Frank E. Wood, local entrepreneurs, purchased multiple properties and re-platted the land as the Fuller-wood Park Subdivision, a combination of the two developers' names. Fuller and Wood began promoting Fullerwood Park in the local newspaper. The Fuller-Wood Development Company touted the subdivision as "The Garden Spot of St. Augustine" and promised that the lots would double in value.
Department of Planning and Building Historic Preservation Planner, Melissa Dezendorf, stressed that owning a home in a National Register District does not place any outside controls from the federal government on your property.
Being a part of a National Register District means that any federal projects or projects involving Federal funding (i.e. road and infrastructure improvements) must be evaluated for their impacts on historic properties, protecting the resources present in the district.
Another plus is that buildings in a National Register District are eligible for a variety of tax credits and grants for renovations or rehabilitations.
Photo credit: © 2010 Historic City News staff photographer
Share your thoughts with our readers >>