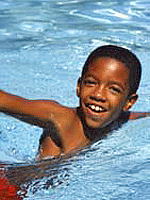 Historic City News reporters will be on hand for the city commission meets Monday evening in the Alcazar Room at City Hall when City Manager John Regan presents a revitalization proposal for the Willie Galimore Center and pool in Lincolnville.
For years, the Galimore Center and pool was the county's only public pool. It was closed for repairs, almost coincidentally, at the time the new Solomon Calhoun community center and pool in West Augustine opened in April, 2009.
"Our City Commission's directive is to provide a quality of life for our citizens rooted as a core value of our community," Regan says. "There is no greater commitment we can make at this time than to revitalize the Galimore Center and pool as key elements in bringing Lincolnville to its historic place in our community."
"I've taught my kids and grandkids to swim in that pool," Lincolnville resident Lynette Pemberton says. "It's an important part of Lincolnville, and needs to be reopened."
Regan said the city, county, YMCA, school district and others will collaborate to make that happen — beginning with a meeting of stakeholders October 5th.
Through an inter-local agreement, the city maintains passive parks in the city, like the plaza, while the county maintains active parks, like Pomar Park and Eddies Vickers Recreational Facility and the Galimore Center pool.
Share your thoughts with our readers >>