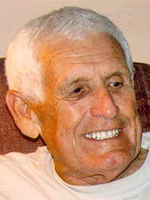 Gerald Britton Roden joined our heavenly father on April 22, 2010 after a short illness. Gerald was partners with his devoted wife Billie Roden for over 61 years and they recently celebrated 50 years in St. Augustine.
He and Billie, his best friend and the love of his life raised four sons, which he always said was his greatest joy and his single largest accomplishment. He will be missed as a devoted Father and as a loving Pa Pa to his grand kids and great grand children alike.
Gerald was born December 18, 1929 in Nauvoo Alabama and served his country honorably in the United States Marine Corps during the Korean Conflict. After the war he began a career as an Aircraft mechanic. His young family came to St. Augustine in 1958 when he joined the Fairchild Hiller operations located in the current Grumman facility and he and Billie set their roots in a town that they loved and began raising their family. He provided love and guidance to his boys in how to be a man and with Grandma became an inspiration of marriage based on two friends with love and respect for each other.
His career led him to Naval Air Station Jacksonville until his retirement. Many of the old Fairchild and NAS boys became lifelong friends and they often shared a common love of fishing. He was blessed to lead an active outdoor life with family, fishing and gardening as his passions up until his passing.
Funeral Services will be held 11 AM Tuesday at Craig Funeral Home Chapel, David Beecher associate pastor of Millcreek Baptist Church will be officiating. Visitation will be held from 5 -8 PM Monday at Craig Funeral Home. Burial will be in Craig Memorial Park with Military Honors.
Gerald is survived by his younger sister, Iva Nell ( Ed) Bircheat and four sons Steve (Vivien)Roden , Scott (Gabriella) Roden , Jeff (Margie)Roden and Mark Roden and his 8 grand children Michael Roden, Britt(Jessica)Roden, Anthony Roden, Stephanie Roden, Brianna Roden, Tyler Roden, Emily Roden and Gracie Roden. He also had two great grand children Hunter and Aubrey Roden.
Funeral Services
Tuesday April 27, 2010, 11:00 AM at Craig Funeral Home
Visitation
Monday April 26, 2010, 5:00 – 8:00 PM at Craig Funeral Home
Burial
Tuesday April 27, 2010 at Craig Memorial Park
Share your thoughts with our readers >>