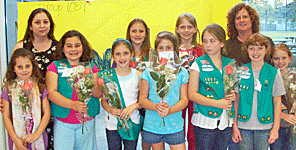 Outreach Director Kelly Franklin informed local St. Johns County reporters at Historic City News that Girl Scout Troop 1057 enlisted the help of 28 other troops in their unit to sponsor a baby shower for Betty Griffin House.
"This is an incredible donation of much needed items," Franklin said. "Pink and blue fleece blankets, diapers, baby monitors, baby bathtubs, clothes and bouncy seats….now that's a baby shower!"
Franklin told reporters, "A donation like this is very important to the participants in our shelter program because these items can be extremely expensive."
"I just really feel so happy that you guys really need the items," said troop leader Dyana Giles. "It's a really good thing for the girls to do. I am very proud of them!"
Franklin explained, "All too often women find themselves living in shelter and only have the clothes on their back. These items collected will be very comforting to them, so they know their children will not go without."
The girls in the 28 other troops showed their appreciation by giving each troop member of 1057 a single long stemmed rose for all their hard work and dedication to this baby shower project.
Share your thoughts with our readers >>