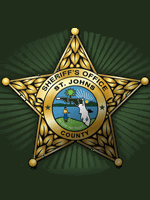 Sheriff's Public Information Officer, Sgt. Charles Mulligan, tells local Historic City News reporters that St. Johns County deputies are searching for a man and woman who they said tried to lure four girls into their car Saturday evening in Orangedale.
The girls — two 6-year olds, a 9-year old and a 14-year-old — said they were playing in the 300 block of Shady Oak Circle about 6 p.m. when a man and a woman drove up in a small blue car, according to the St. Johns County Sheriff's Office.
The girls said the two asked them if they wanted chocolate and said they would have to get into the car to get it, deputies said.
The girls refused and the blue car drove off, deputies said.
The man who was driving is described as a white male in his 30s with brown hair and thin lips. He was seen wearing a blue T-shirt. The woman who was a passenger in the car is described as a white female in her late 20s or early 30s with light-colored, shoulder-length curly hair.
The car is described as a small blue station wagon or hatchback that had not been seen in the neighborhood before by the girls.
Detectives said the intention of the man and woman is unknown, and they would like to question them.
If you have any information about the identity of the man or woman, call Crime Stoppers at 888-277-TIPS.
Share your thoughts with our readers >>