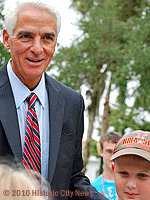 Historic City News editor Michael Gold joined Florida's Governor Charlie Crist as he toured the campus of the Florida School for the Deaf and Blind this morning — stop number two for Crist after a morning meet and greet hosted at the Council on Aging's River House.
After Crist left the school, it was off to Gypsy Cab Company for lunch, and then he is headed to an engagement in West Palm Beach this evening. According to the Governor's Press Office, Crist will squeeze in a couple of telephone meetings along the way.
When asked how long it's been since Crist's last visit to the campus, FSDB President, Dan Hutto said he was pretty sure it was in 2000, when Governor Crist won a special election and became Florida's last elected Commissioner of Education.
Hutto oversees 860 on-campus and outreach students as well as 700 employees. Hutto's service to the St. Augustine school dates back to the 1960's. "If I had to say one thing that stands out in today's visit," Hutto remarked, "I would say it was the Governor's interaction with our students."
Quite a few staff members, teachers, houseparents, and students from toddlers to high school all welcomed Crist. Despite the commotion of camera men, tight security and the crowds, Crist made his way from classroom to classroom and, amazingly; none of the students seemed ruffled.
Crist fielded questions from adults and students — adults showed support for Crist's controversial veto several months ago that allied him with teacher unions, and pit him against many Republicans. Some of the best questions came from the students — many of whom were young teenagers.
"Let me see a show of hands," the Governor joked. "How many of you are already eighteen years old?" He feigned disappointment than none were old enough to vote — but told them, with a laugh, to be sure they told their parents that they had met him!
The Governor's father, Dr. Charles Crist of St. Petersburg, cut off the tip of one of his fingers, Crist told one class of deaf students through a class interpreter. The Governor said "He spoke to a class of students, just like you in Tampa. They all picked up on his missing finger." Crist said one of the students asked his father if he considered it a "speech impediment".
This morning student's questions ranged from "Did you come here in a limo?" to "I'll bet you live in a really big house?" Crist chuckled at told one of the boys, "No, I came in a regular car today." Then he turned to the other boy and said, "Yes, the Governor's Mansion is a beautiful place to live, and you should come and visit it one day."
After Crist broke away from the Republican Party when it became clear they would support his opponent, Marco Rubio, for United States Senate, he showed that he was not afraid to be independent from Party politics. Crist stopped along the way this morning at a bulletin board on the wall of one of the classroom hallways. Stapled to the bulletin board were pictures of the President, Supreme Court and the Congress — illustrating the three branches of our federal government. Crist pointed to the Senators and Representative that make up the two houses of Congress and quipped, "That's where we need to fix some things."
Crist has been a somewhat regular caller to the "Bubba the Love Sponge" morning radio show that originates from studios in the Tampa – St. Petersburg area; the part of Florida that the Governor calls home. The BTLS radio program is — well, un-polished. Bubba calls a spade a spade and likes what he see's in Crist's politics. At least on the radio, Governor Crist and "Bubba" Clem are on a first name basis. For a hoot, I asked the Governor if Bubba the Love Sponge continued to support him as an Independent, should I continue to support him as well? Governor Crist just smiled as he shook my hand and chanted, "Bubba Army".
Crist, the consummate politician, couldn't pass up the opportunity to "kiss a few babies" along the way — shaking hands, going "off script", stopping to say hello; when he really was running late. And, before he left, he struck the mother lode. One class of toddlers was just getting ready to be picked up at noon and Crist took some time to sit down in their play area, build with a few blocks and interact — he was in his element. The children, of course, had no idea what it meant to be governor, but you could see an almost charismatic connection between them and Crist.
Crist was entertained by high school students in one science classroom for the blind and partially sighted. Using sheet music prepared on a Brailler, three students played and sang along in an original song that they had prepared.
As he was getting into his Chevy Blazer, Governor Crist took a final minute to talk about his experiences as he toured the state school. "These children have amazing courage and their education from the Florida School for the Deaf and Blind is going to prepare them to conquer life's future challenges," Crist said. "I see the good work of our professional teachers and I can't thank them enough for the positive roles they play in each of these student's lives."
Photo credits: © 2010 Historic City News staff photographer
Share your thoughts with our readers >>