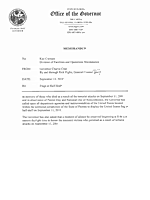 Tomorrow marks the ninth anniversary of the terrorist attacks of September 11, 2001, and on this solemn occasion we stop and remember all of those who lost their lives in New York, Pennsylvania and Washington, D.C.
We also are reminded of the many courageous first responders, firefighters, and other rescue workers who bravely risked their own lives to help their fellow man.
I encourage all Floridians to join with countless others across our state and nation in remembrance of the lives lost during that fateful day.
September 11th is also a time to pray for the men and women who are currently serving to protect the freedoms we enjoy today in our Armed Forces, and pray for their safe return home.
The service and devotion of our troops fighting the global war on terror is admirable, and their sacrifice is a proud reminder of the spirit of freedom that defines America.
We must pay tribute to all veterans who have paid the ultimate sacrifice defending our nation. We can never fully repay our debt of gratitude to these heroic men and women.
We continue to draw inspiration from the heroism and dedication of individuals who sacrificed for the cause of liberty and justice.
Share your thoughts with our readers >>