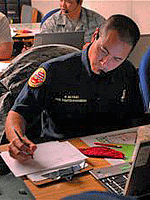 St. Johns County Fire Rescue announced to Historic City News that they have been awarded a $6000 grant that will allow them to purchase new interactive firefighter training and testing software.
St. Johns Fire Rescue planned to purchase more effective training software in 2010; however, due to budget cuts, they were unable to purchase the software on their own.
St. Johns Fire Rescue officials, firefighters, and executives and employees from Aon Risk Services and Fireman's Fund Insurance Company will come together for a special public event Wednesday, November 10th at 11:00 a.m. at the Fire Rescue Administration Building located at 3657 Gains Road, where the grant package will be formally presented.
"Providing training to our firefighters is an important component of our mission," said Fire Chief Johnny Colson. "The software purchased with this grant is effective because it utilizes interactive training as opposed to traditional teaching methods."
The interactive software purchased with the grant money will serve two main purposes: to enhance firefighters' skill and firefighting knowledge and to test them on learned material. The new software includes interactive audio and visual training and provides the fire department personnel with feedback on the progress of the trainees. The software can be used on all computer systems throughout the county's 17 fire stations.
The grant is part of a nationwide philanthropic program funded by Fireman's Fund Insurance Company. The program is designed to provide needed equipment, training and educational tools to local fire departments. Since 2004, Fireman's Fund has issued grants to more than 1,500 different departments totaling more than $26 million. Independent insurance agencies and brokers that sell Fireman's Fund products, like Aon Risk Services, are able to direct these grants to support the fire service.
Share your thoughts with our readers >>