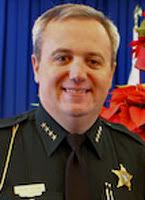 David B. Shoar, Sheriff
St. Johns County, Florida
Later this month many of our children will be taking part in the age-old custom of "trick or treating" on Halloween. Our goal at the St. Johns County Sheriff's Office is that this event is an enjoyable adventure for everyone and I would like to pass along some safety tips.
Children should only be allowed to trick or treat at homes or businesses they are familiar with. They should trick or treat while it's still light outside, or they should carry a flashlight so they can see and be seen easily. Parents, make sure that your child's costume including masks and wigs are flame resistant; they should also be light in color and clearly visible to motorists. Avoid costumes that are oversize and high-heeled shoes that can cause a child to trip. The costumes should have reflective strips.
Children should be reminded to only cross streets at the corners and never cross between parked cars. Young children should never be allowed to go out alone and older children should only go out with small groups. Make sure you set a time when they should be home and know the route your children will be taking. Tell your family on which streets you'll be trick or treating. Let your children know not to cut through back alleys and fields. Make sure they know to stay in populated places and don't go off the beaten path. Stay in well lighted areas.
Children always want to help with the pumpkin carving. Small children shouldn't be allowed to use a sharp knife to cut the top or the face. There are many kits available that come with tiny saws that work better then knives and are much safer, although you can be cut by them as well. It's best to let the kids clean out the pumpkin and draw a face on it, which you can carve for them.
If you will be out driving on Halloween, please take extra time and watch for children darting in and out from between parked cars. Watch for children walking on roadways, medians and curbs. Enter and exit driveways and alleys very carefully. And always watch for children in dark clothing.
Feed your children a spooky Halloween dinner and instruct them not to eat any treats until an adult can examine them. Also remind your child to never go into the home of a stranger or get into their car. Make Halloween a fun, safe and happy time for your children in hopes that they will carry on the tradition that you taught them and remember; if you see suspicious activity please call the Sheriff's Office or your local law enforcement agency and report it.
I would also like to let you know that our Community Policing Deputies are putting the final touches on our annual Horror Zone haunted house. This is the 10th annual Horror Zone and is expected to be the best one yet. Again this year it will be held at the old Mikees building in the Food Lion Shopping Plaza, 2497 U.S. 1 South. It will be open between 6:00 p.m. and 11:00 p.m. on the last three weekends of October (Friday-Sunday). For additional information and a sneak preview you can check out their website at www.horror-zone.net.
Personally, I think this is one of the finest haunted houses in this area and you will not want to miss it.
Have a Spooktacular Halloween.
Share your thoughts with our readers >>