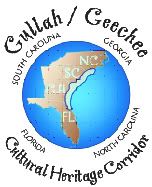 The Gullah Geechee Cultural Heritage Corridor Commission (GGCHCC) will conduct its first quarterly 2010 business meeting in St. Augustine on February 19th, according to an announcement received by the St. Johns County local news desk from Michael Allen, NPS Community Partnership Specialist.
Although the St. Paul A.M.E. Church venue was selected by the Commission because of its significance to Gullah Geechee culture and early Spanish history in northeast Florida, St. Johns County and St. Augustine remain outside of the present Corridor boundaries.
Derek Boyd Hankerson, Managing Partner of Freedom Road LLC, together with James Bullock and Kathy Fleming, are working towards having the Corridor extended to include our area; due to the location of the Fort Mose National Park and other significant connections to the Gullah Geechee culture.
Hankerson, Bullock and Fleming, plan to speak before the City of St. Augustine City Commission on Monday, February 8th, and St. Johns County Board of County Commissioner on Tuesday, February 16th, to update the Commissions on their progress and to re-affirm support that was shown by the commissions last year.
There will be a public meeting from 9:00 a.m. to 4:00 p.m. at St. Paul A.M.E. Church located at 85 MLK Drive in the Lincolnville neighborhood.
The meeting will focus on partnership opportunities with non-profits, cities, towns, federal, state, and county governments.
A four-state federal commission, the GGCHCC continues its second year of developing a General Management Plan that will identify how the National Heritage Area will be developed.
Hankerson told Historic City News that he feels strongly that St. Augustine and St. Johns County need to be include in the General Management Plan so that "as we lead up to the 450th and 500th celebrations, we are historically accurate in portraying the contributions of Africans and African-Americans to La Florida which predate 1565."
Share your thoughts with our readers >>