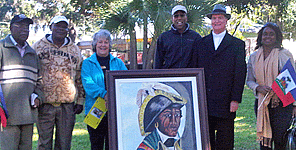 Derek Boyd Hankerson told local Historic City News reporters that Haitian American Historical Society Chairman Daniel Fils-Aime, Art Director Alexandra Barbot and Historian Dr. Jean Claude Exeulen visited St. Augustine yesterday to participate in a celebratory mass sponsored by the Minorcan Society.
At this morning's ceremony the Haitian American Historical Society representatives had another opportunity to visit the burial site of General Jorge Biassou. The delegation of Historical Society representatives is looking at various sites in St. Augustine to display a historical marker, head stone, and monument in honor of Biassou.
The 500 Haitians who fought in the American Revolution at the Battle of Savannah are memorialized by a monument there, and, according to Hankerson, visitors have benefitted the City of Savannah by an additional $15 million dollars.
While in St. Augustine, Haitian American Historical Society representatives also visited the 30th Annual Lincolnville Festival — after some lobbying by Hankerson who insisted that they attend the traditional festival instead of eating lunch at their regular Chinese Buffet on US-1.
Once in the festival, they met Charles Ellis and Vice Mayor Errol Jones of the Fort Mose Historical Society; one of the beneficiaries of the annual Lincolnville event.
Hankerson said the delegation enjoyed another wonderful visit to St. Augustine, and had the opportunity to discuss plans for the future. Haitian American Historical Society Chairman Fils-Aime commented "next year we can bring Wyclef."
Photo credits: © 2010 Historic City News contributed photograph by Derek Boyd Hankerson
Share your thoughts with our readers >>