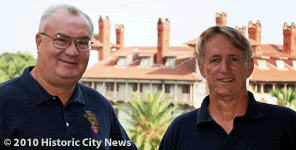 Historic City News local reporters spent time this morning with two very busy city officials — outgoing St. Augustine City Manager Bill Harriss and incoming City Manager John Regan as Harriss makes the transition to retirement and Regan makes the transition to what some would call "the hot seat".
After twenty five years of service, fifteen of which was spent in the office of the City Manager, Harriss will retire from City Hall within the next two weeks and Regan will assume the steering wheel as of July 1, 2010.
Regan, who is moving up from the position of Operations Manager for the City of St. Augustine, said "Mr. Harriss will be missed." Harriss had already been counting heavily on Regan in anticipation of his retirement. Harriss said of Regan, "He has been my go-to guy on many important projects — he is going to do a great job."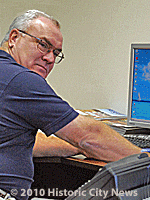 Harriss is pleased that the City Commission made the decision to promote Regan; who has worked at the City for as long as Harriss has been City Manager. "There really wasn't any need to spend a lot of time and money searching the country for my replacement when we already had someone as qualified and capable as John right here in the building."
Regan was expecting there to be a longer process, himself. He says that he was surprised in the speed with which the Commission nominated him for the job. City Attorney Ron Brown and Mayor Joe Boles began negations with Regan right away — leading to a 5-0 approval of the contract at the regular City Commission meeting on May 24th.
Harriss did not have a contract with the city like the one negotiated with Regan; whose terms call for performance standards and annual review.
Regan's five-year contract earns him a base salary of $131,000 per year, to start. Regan will receive full medical coverage, long-term disability insurance, life insurance, use of a city car within the confines of St. Johns County and an extra week of vacation over his accrued amount.
He must also "submit once per calendar year to a complete physical examination."
If Regan is terminated, the City must pay him ten months' salary in a lump sum as well as provide him with ten additional months of insurance coverage, unless he was terminated for the commission of a felony.
"I'll probably get emotional when it all sinks in," Harriss said of his official retirement party in a couple of weeks. "It's hard to finally let go of something like this that you've given so much to for so many years."
Harriss says he'll occupy his time with something other than what he's done at work the last 25 years. He's not ruling out anything at this point, but, he told us that he is looking forward to some time off — and a few less telephone calls every day.
Photo credit: © 2010 Historic City News staff photographer
Share your thoughts with our readers >>