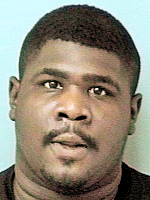 21 year-old Lavorris Deshawn Session was identified to Historic City News reporters and arrested on October 5th; charged with robbery using a firearm and kidnapping in a drug-deal-gone-bad that occurred shortly after 10:00 p.m. on September 25th at a residence in the 400 block of Green End Lane in Hastings.
Further investigation revealed that the victims of the robbery were allegedly in the process of purchasing $500 worth of prescription narcotics when Session decided to commit the robbery.
According to new reports from the St. Johns County Sheriff's Office, Session and two other men, identified as Brandon Aritious Johnson, 18, and Sherife Lamar Medlock, 19, kidnapped one of the victims at gunpoint and drove away from the scene.
The kidnappers reportedly placed a call to the other robbery victim and demanded money in exchange for the woman's release. Prior to the exchange, the woman was pistol whipped by her kidnappers.
Session, last known to be living at 100 Dellwood Avenue in Palatka, was released on October 6th after posting $50,000 bond.
Robbery detectives are still searching for Johnson and Medlock. It is believed that Johnson may be in the Putnam County area and Medlock is possibly in the Gainesville, Florida area. The two suspects at large have outstanding warrants for robbery with a firearm and kidnapping.
Anyone with any information concerning the whereabouts of Johnson or Medlock, is asked to contact robbery detectives at the St. Johns County Sheriff's Office at (904) 824-8304. You can remain anonymous and possibly be eligible for a cash reward by calling CrimeStoppers of N.E. Florida at 1-(888) 277-TIPS (8477).
Share your thoughts with our readers >>