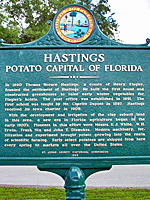 Tanya Jackson reported to the St. Johns County local news desk that the Town of Hastings will celebrate the return of spring with several fun events.
Fish Fry Fundraiser – April 3rd, Main St. in Hastings Starts at 10a.m.-2p.m. Fund raiser for the after school program.
Hoop Shoot – April 30th, 10a.m.-1p.m. at W. E. Harris Community Center in Hastings. Ages 8-9, 10-11 and 12-13. Cost is $5:00 to enter.
Mother and Daughter Hair Do Fundraiser. Cost $2:00 a Raffle Ticket. Drawing is May 1, 2010 at the W. E. Harris Community Center, Hastings.
The Hastings Potato and Cabbage Festival – Saturday, May 8th, 10:00-7:00, at the Hastings Recreation Field. Activities include a Farmer's Market, live entertainment, children's activities, art and history exhibits.
For more information about Hastings event, please contact 904-692-3655.
Photo credit: © 2010 Historic City News photographer Kerry McGuire
Share your thoughts with our readers >>