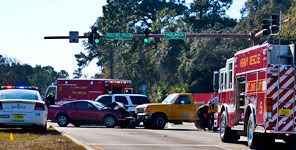 Shortly before 3:00 this afternoon, Historic City News freelance photographer Christopher Kimball reported to the local St. Augustine news desk that he was on the scene of a two-car accident which sent one driver to the hospital.
Kimball said he had to walk about 1/2 mile to reach the accident site because the westbound traffic on SR 207 was backed-up past the nearly vacant St. Augustine Record building.
According to Kimball, traffic was at a crawl and backed up for an hour or more.
Two vehicles were involved; a yellow Ford F-150 2 door pickup truck and a maroon Ford Mustang hard-top coupe, which collided head-on in the intersection of SR 207 with Holmes Boulevard and Rolling Hills Drive.
"Even SR 312 was backed up all the way past the overpass from the accident", Kimball said.
St. Johns County sheriff's deputies together with a trooper from the Florida Highway Patrol responded to investigate the accident. Emergency services were provided by personnel from Rescue 5 and Heavy Rescue 5.
According to officials on the scene, the transported driver suffered non-life threatening injuries. No word on charges to be filed as the FHP investigation was still underway at the time of this report.
Photo credit: © 2010 Historic City News freelance photographer Christopher Kimball
Share your thoughts with our readers >>