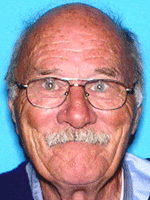 Historic City News readers are being asked to help the St. Johns County Sheriff's Office to locate a 75 year-old man who may be disoriented and is possibly suffering from dementia.
Thomas C. Weeks is 5'2" tall, 160 pounds with gray hair and brown eyes. Although Weeks was last seen yesterday morning at 7:00 a.m. walking from a home on Cypress Road, his last known place of residence was in Ft. Myers, Florida.
Weeks, who walks with a cane, was last seen wearing a white shirt, dark colored pants and glasses.
Anyone who comes in contact with this individual please contact the St. Johns County Sheriff's Office at 824-8304, or 911 immediately.
Share your thoughts with our readers >>