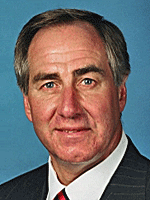 Florida East Coast Railway announced to local Historic City News reporters that James Hertwig has been named as President and Chief Executive Officer of the company effective July 1, 2010.
"Jim's experience and skill set is an ideal fit for the FEC and will be extremely beneficial in driving the company's growth and long-term franchise value," said FEC Chairman John Giles.
The Florida East Coast Railway operates 351 miles of mainline track along the east coast of Florida and may soon provide Amtrak with use of their corridor under a state-initiated project to restore passenger service between Jacksonville and Miami; with new stations in eight cities, including St. Augustine.
Hertwig is an accomplished expert in intermodal transportation and is highly respected throughout the industry. He has been president and CEO of Carolina Freight Carriers Corporation, president of Landstar Logistics, Inc., and most recently president of CSX Intermodal.
Hertwig currently serves on the Board of Directors of the Intermodal Transportation Institute at the University of Denver and is beginning his third term on the Board of Directors for the Intermodal Association of North America.
Hertwig succeeds David Rohal, who will continue in his role as senior vice president with RailAmerica and will remain on the Florida East Coast board of managers.
Share your thoughts with our readers >>