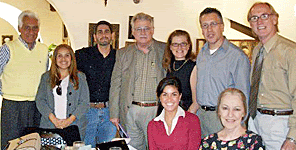 The Board of Directors of the Hispanic Heritage Council of St. Johns County reported to Historic City News that they have confirmed their first General Membership Meeting for Thursday, April 8th.
This new organization had its first Board of Directors meeting at the Columbia Restaurant on February 19th. The General Membership Meeting will be held in the Gamache-Koger Theater located in the Ringhaver Student Center on the Flagler College campus at 50 Sevilla Street.
St. Augustine Mayor Joseph L. Boles will be the guest speaker. The meeting convenes at 5:30 p.m. and is scheduled to conclude at 6:30 p.m.
"St. Johns County does not have a recognized Hispanic group or club that meets regularly to discuss Hispanic heritage or promote awareness and education. With the 450th approaching, and considering our lengthy Spanish history, there is a need in our community for Hispanics to come together and create a presence in our community," said Lynda Follenweider, president of the Hispanic Heritage Council.
The Hispanic Heritage Council of St. Johns County is an organization designed to benefit the Hispanic Community and preserve its heritage through arts and education.
Follenweider says that the council will, through partnerships with local high schools, community colleges, universities and businesses, share Hispanic ideals and draw attention to the county's Hispanic community in preparation for the 450th anniversary of the founding of America's oldest city.
Photo credit: © 2010 Historic City News contributed photograph
Share your thoughts with our readers >>