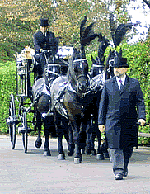 Historic City Memories: Funeral practices
Standing in respect for a load of furniture
By Geoff Dobson

A short while ago, I paid my final respects to a friend at Craig's Funeral Home. After leaving the visitation, it made me think of changes that have occurred in our funeral practices over the years.
Except for the ushers and the funeral director it seemed as if the guest of honor and I were the only ones in coat and tie. Small formalities seem to have disappeared into the mists of time. At one time as funeral processions passed by cars would pull over in respect. Pedestrians would stop and stand in respect with their hats over their hearts.
Times have changed, when the procession goes by now, police officers have to block intersections to preclude cars from breaking into the processions. Other cars will whiz by the procession. Pedestrians ignore the procession. Hardly anyone wears a hat. Most of those who do wear a baseball cap. Attire at funeral homes and, indeed, in church, is now frequently polo shirts.
At one time prior to the turn of the century, funeral homes were rare. Today, funeral services are more often in a funeral chapel than in church. Indeed, funeral chapels did not become popular until the 1920's. In the late 1800's, it was common for the dead to be laid out at home. Neighbors would bring in food. Pre-made caskets were sold in furniture stores. Often, however, when the home was not suitable for visitation of the deceased, the owner of the furniture store might be asked to undertake the arrangements. Thus, it became common for there to be combination furniture stores and funeral parlors.
In St. Augustine, at the beginning of the twentieth century, George T. Bunting (1844-1901) ran a furniture store at 45 and 52 N. Charlotte Street. Eventually, he purchased a small hearse and ran a combination undertaking and furniture business. Bunting's final ride was out to Evergreen Cemetery.
Bunting employed Raymond A. Ponce as an assistant. Ponce took over the business when Bunting died. The business in due course became the Ponce Funeral Home. Among Ponce's clients was "Slim" Jackson, the last person to be hanged at the old County Jail. Ponce's was joined by Sanchez & Son, Sanchez & Craig, Craig's, and F. H. Garcia. Craig's continues to serve the area. Sanchez and Garcia have, pardon the pun, gone the way of all flesh.
The combination of undertaking and the furniture business was not limited to St. Augustine. In Daytona Beach, Bingham & Maley advertised beds, bamboo furniture, and undertaking in the same advertisements. In Ocala, McIver and Mackay in addition to advertising wagons, buggies, harness, building materials, wall paper and furniture, advertised that they had a "full line of coffins, caskets, and burial suits of every description. Special attention paid to burial services. Embalming to order."
It was similar elsewhere in the state. As late as 1915, the Avon Park Hardware and Furniture Company advertised: "A full line of hardware of all kinds and furniture of attractive prices. Paints and oils, caskets and coffins, undertaking and embalming. See our stock and get prices. Located in old Burleigh Store."
In Bartow, Wirt's Furniture Store sold toys and gifts at Christmas. It had two hearses, a black one pulled by black horses and a small white one pulled by Shetland ponies for children.
The practice of combined business was not limited to Florida. After Bonnie Parker and Clyde Barrow were killed, their bodies were left in their bullet riddled Ford which was then towed to the Conger Furniture Store & Funeral Parlor in Arcadia, Louisiana, where they were in repose.
When word got out, the town population swelled six fold. The undertaker was besieged in his furniture store by crowds eager to view the bodies. While Bonnie's father, Henry Parker, sat weeping in the furniture section, the undertaker beat back the crowds by squirting them with embalming fluid.
In Orlando, Florida, Elihu Hand and E. A. Richard in 1890 combined the undertaking and furniture business with a livery stable. They already had the horses for the hearse and the furniture delivery wagon. It became one of the first undertaking establishments to have its own funeral chapel.
In one town, the undertaker used the same vehicle as a hearse and furniture delivery wagon. It was customary when a hearse passed, for men to take off their hats and place them over their hearts as a token of respect. To solve the problem of men standing in respect for a load of furniture, white horses were used for the furniture and black horses for the deceased.
Ostrich plumes, white for children and unmarried women and black for others, were affixed to the horses and the hearse. One's social standing was sometimes marked by the number of plumes. The more plumes on the horses, the higher one's rank in society. Today, one's comparative social rank is marked by the number of traffic cones placed in front of the Cathedral.
As licensing of funeral directors came in, and times changed, the practice of operating join businesses faded out. No longer is there a possibility of standing in respect with hat over heart as a load of furniture goes by.
Geoff Dobson, a St Augustine resident for the past 33 years, is a western and Florida history writer and was former General Counsel for the Florida Department of Transportation. He is a former president of the St. Augustine Historical Society and a regular contributor of nostalgic memories to Historic City News. Before his parents moved to Florida, his father was a Black Angus cattleman. Geoff has written extensively on Wyoming history ("Wyoming Tales and Trails"). When Geoff was in high school, his family lived in the cattle country of eastern Sarasota County. The family spread, which his parents called "Wild Cat Slough," was reachable only by a pair of ruts over the sand hills and through a snake and gator infested slough. Now, it is an area of four-lane roads, expensive subdivisions, shopping centers, and office parks. . His undergraduate degree is in history. Geoff received his post-graduate degree from the University of Florida. He may be reached at horse.creek.cowboy@gmail.com
Share your thoughts with our readers >>