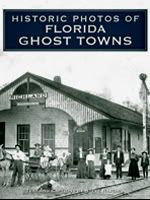 In response to suggestions from St. Augustine local news readers, Historic City News will begin publishing reviews of books that have relevance to St. Augustine, St. Johns County, or Florida.
When most people think of a ghost town, they conjure up images of the former attraction Six Gun Territory near Silver Springs with its dusty group of dilapidated, wooden buildings, hinged doors on the saloon and tumbleweed rolling down the street.
Unlike the Hollywood version of ghost towns, like those in the Old West, the real ghost towns in Florida don't have tumbleweeds rolling on deserted dirt roads, abandoned wooden saloons, and lone drifters on horseback.
Although the landscape may have dramatically changed, many of these once-thriving communities declined due to widespread economic changes, disastrous weather, company closings, or vital industries disappearing or moving elsewhere. In fact, some of these so-called ghost towns have been absorbed by larger cities still inhabited by Floridians today.
In Historic Photos of Florida Ghost Towns, author Steve Rajtar takes readers decades back in Florida's history to discover these ghost towns through the lens of two hundred black-and-white photographs-in some cases, the only remains of these forgotten towns.
Explore the landscapes, houses, schools, businesses, organizations, places of worship, and people who once called these now-non-existent towns home. Imagine what life was like in hundreds of these tight-knit communities as you explore a century and a half of this sunny, populous state that many still call home.
About the Author:
Steve Rajtar has written over 20 books, each dealing with history, particularly that of Florida. Among these works are Historic Photos of Florida Tourist Attractions, Historic Photos of Gainesville, and Historic Photos of the University of Florida, all available from Turner Publishing. Rajtar grew up near Cleveland, Ohio, and after graduating from the University of Central Florida and the University of Florida, entered the practice of law. He continues in that profession today. A love of the outdoors and a fascination with local history inspired one of his hobbies: leading historical tours in Florida's communities of today and yesteryear.
Purchase a copy of Historic Photos of Florida Ghost Towns
Share your thoughts with our readers >>