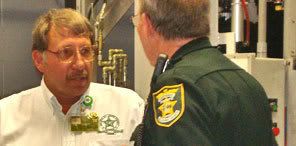 St. Johns County Sheriff's spokesman Kevin Kelshaw informed Historic City News local reporters that the elderly couple found dead at their Coquina Crossing residence last evening, died as a result of a murder-suicide; according to the autopsy report from the District Medical Examiner.
Deputies responded to the residence in the 5800 block of Mora Place shortly before 8:00 p.m.
71 year-old Stephen Perham Jewett called the Sheriff's Office and told dispatchers that he shot his wife inside the residence and that he could be found in the back yard.
The female victim was identified as 68 year-old Dorothea K. Jewett
The cause of death was a gunshot wound in both cases.
Homicide detectives located the weapon near Stephen Jewett in the backyard, as well as a note, inside the home, indicating the victim suffered an unspecified medical condition.
Share your thoughts with our readers >>