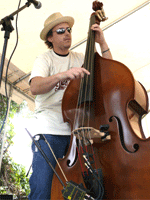 Chris Clark, standup bass player with Lonesome Bert and the Skinny Lizards, announced to Historic City News an appearance at a charity event for pets this Saturday at the St. Augustine Beach Pier Pavilion.
Presented by Watson Cares, the 1st Annual "Hoots and Howls" pet day will be Saturday, October 30th from 9:00 a.m. until 5:00 p.m. and will benefit S.A.F.E., Wags and Whiskers, H.A.W.K.E., and Diamonds in the Rough Farms — all are non-profit, St. Johns County animal organizations.
"We jumped on the opportunity to help our furry and feathered friends," Clark said. "Let's face it, we have ripped them out of their natural evolutionary destiny where they could be running wild and free with their fuzzy counter parts, rolling in endless piles of poop and dead fish."
There will be live music all day, food, beer, up to 80 vendors, a petting zoo, a dog walk, a pet contest, a pet wash, photography, face painting, a Sherriff's Office K-9, obedience training, Frisbee throwing, pet adoptions and a charity silent auction.
Asked about his love for pets, Clark said, "We domesticated them, we trained them, we molded them to fit within the confines of our over busy schedules. They do it gladly for a simple scratch or a simple treat."
SCHEDULE OF EVENTS
8AM – 9AM Vendor Set Up
8AM – 9AM Dog Walk Registration
9AM – Event Starts
9AM – Dog Walk Starts
10AM – Pet Contest Starts
10AM – 11AM WFOY Broadcasting Live
11AM – 5PM Live Music
12PM – Frisbee Throwing Demo with Scott
1PM – Dep. Melanie Russell & K-9 Kahlua Meet/Greet
9AM – 3PM Photography with your Pet
9AM – 3PM Dog Wash
9AM – 5PM Petting Zoo
9AM – 5PM Beer
9AM – 5PM Shuttle from Amici's parking lot to Pier and back
9AM – 5PM Silent Auction
9AM – 5PM The Ever Famous Johnny Mac will be hosting the Event
9AM – 5PM Obediance & Agility training with Silke from Pet Camp
Lonesome Bert and the Skinny Lizards will take the stage at around 3:00 p.m.
"If you're a pet lover, come support them," Clark told Historic City News. "If you're frightened of pets, this may not be the event for you."
Share your thoughts with our readers >>