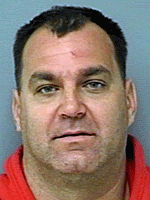 Two men were arrested this morning following the execution of a search warrant at a home on Coquina Ave.
The two suspects, identified as Shawn Lee Crays, 35, 84 Coquina Ave., and Jason Michael Donald, 35, Stuart, Florida, were each arrested on a charge of trafficking cocaine and face additional charges.
The Investigation began over six months ago by members of the Sheriff's office Special Investigations Unit following anonymous complaints of that residence.
Probable cause evidence was obtained and a search warrant was issued. Members of the Sheriff's Office S.W.A.T. team along with detectives with the S.I.U. served the search warrant shortly after 8:30 a.m. today.
Detectives seized approximately 155 grams of powdered cocaine, nine 5-foot marijuana plants from an indoor grow, prescription medication, steroids, a gun, a pair of jet skies with altered serial numbers and about $3,000 in cash.
The illegal drugs had an approximate street value of over $50,000.
Additional arrests could be made as detectives continue the investigation.
Share your thoughts with our readers >>