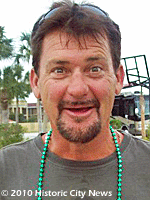 Historic City News has learned that a St. Johns County grand jury has returned an indictment for first degree murder against 51 year-old Timothy Dale Rose today — charging him with the killing of 48 year-old Jan Dunn Keller who shared a home with him at 1012 Enon Court.
"The man accused of killing Keller has now been formally indicted — this means the case against him can proceed," a spokesman with the State Attorney's Office said.
Keller went missing when she did not show up for work on the first day of classes at Kelley Smith Elementary School in Putnam County. Keller taught third grade.
A complaint related to the case was released today. The report details Keller's activities in the days before she disappeared. The night before she was reported missing, Keller called a friend asking to be picked up from the Oasis restaurant at St. Augustine Beach.
When first interviewed by investigators, Rose said he last saw his live-in girlfriend at the Oasis, sometime after 10:30 p.m. on Sunday night. According to Rose, Keller walked outside for a cigarette — but she never returned.
The report says Keller called a friend and told him that she was with Rose and that she was frightened. The friend reportedly told Keller that he was too far away and could not help her. He told police that two weeks prior to Keller's death, he saw her and she was badly bruised. In general, the couple's arguments were physical, he said.
Although she had recently packed her bags and planned to leave the home she shared with Rose, she had reportedly changed her mind.
Apparently, Keller also spoke with another man while Rose was in the Oasis restroom. That witness reported to investigators that Keller told him that she was scared.
Keller's body was found August 24th in her garage; nude and wrapped in sheets and a blue tarp. Her killer had stabbed her a few times in the chest and once in the back. Her hands, feet and head were severed.
A reciprocating electric saw with bone fragments and blood on it was found next to the body.
Sheriff David B. Shoar believes his deputies arrived after Rose dug a grave but before he buried the body; trapping him in the house.
When deputies went into the home they found Rose unconscious next to a pill bottle and a shotgun. Shoar said he believes Rose attempted suicide after he realized that he was trapped. Rose was taken to the hospital to recover and then charged with murder.
Share your thoughts with our readers >>