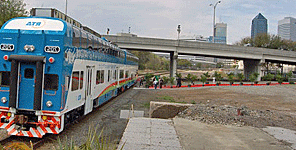 At the regular St. Augustine City Commission meeting scheduled for Monday night, Historic City News has learned that Regional Transportation Planner James Boyle will present information taken from the 2009 Final First Coast Commuter Rail Feasibility Study prepared by Gannett Fleming for the Jacksonville Transportation Authority.
With excitement brewing over the real possibility of Amtrak passenger rail service over Florida East Coast Railway tracks between Jacksonville and Miami, the city may be in for some more good news as plans for short-run commuter service between St. Augustine and Jacksonville are explored.
Boyle briefed board members of the North Florida Transportation Planning Organization about the study's findings during its April meeting. The study identifies three preferred service corridors from Jacksonville — Southeast Corridor to St. Augustine, Southwest Corridor to Green Cove Springs and North Corridor to Yulee.
"Once implemented, commuter rail will be another critical component in providing transit mobility options for the neighboring counties of St. Johns, Clay, Putnam, Flagler, Nassau and Baker," the study's executive summary says.
COST ESTIMATES:
Based on potential ridership forecasts, two-car trains would be required on the Southeast corridor to St. Augustine. The capital cost of the overall network is estimated to be $622 million in Year 2008 Dollars and $172 million for the Southeast Corridor. Annual operating and maintenance costs are estimated to be $40.6 million annually for the entire system, and $14.4 million annually for the Southeast Corridor.
Anticipated ridership in 2015 for the St. Augustine corridor would achieve between 2,410 and 4,810 passengers each year.
The study concluded that commuter rail service in the Northeast Florida region is feasible.
Stated another way, the study determined that there are no fatal flaws that would make it impossible or prohibitively expensive to develop commuter rail service on rail lines in the region. Overall feasibility was evaluated by considering operational, institutional and economic feasibility.
Share your thoughts with our readers >>