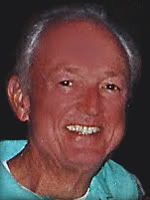 Historic City News was saddened to learn of the death of 76 year-old John Randolph Fraser; who passed away June 8, 2010, at his home in St. Augustine Beach.
He was at peace when he went to be with the Lord.
Fraser was born March 20, 1934, and considered himself a lifelong resident of St. Augustine. He was preceded in death by his father, Senator Walter Bryan Fraser and mother, Adelene Elizabeth Armstrong Fraser.
He is survived by his four children and their mother, Joan Shepherd Fraser, and seven wonderful grandchildren: son John Walter Fraser, and wife Suzanne Worrell, parents to John Walter II, Alexandra Suzanne and Ian Stuart; daughter Joan Elizabeth Fraser Binninger, and her husband, Steven Paul Binninger, parents to Steven Christopher and Kyle William; daughter Elaine Fraser; and Son Virgil Bryan Fraser, parent to Zachary Luke and Brittany Jenna.
Fraser attended Ketterlinus High School and Severen School in Severen Park, MD. In 1959, he proudly graduated with a Bachelor of Arts from Emory University, Atlanta, Georgia.
A lifetime love of tennis led him to meet such tennis greats such as Bobby Riggs and Frank Kovacs. After Fraser's many titles and wins as a Junior National Champion, including the Davis Cup, his unending passion led him to Ponte Vedra Beach and Jacksonville to play at many of the area tennis clubs.
He made many friends with whom he competed through his 40's on the USTA tournament circuit. Fraser was a tennis instructor and mentor to many of St. Augustine's teens and adults, a Tennis Coach at Flagler College and Tennis Pro at Ponce de Leon Motor Lodge.
Flying, oh how he loved to fly. John's first Pilot Log dates back to August 22, 1951. He chased the clouds through his high school years flying independently, becoming a member of ROTC and finally committing to the Air Force Reserve Officer Training Corps. He continued flying during his adult years and his AOPA membership dates back to 1953.
The Fraser children participated in many of the activities he enjoyed. He taught them about Guns: safety, style, brands, target practice and the NRA; Scuba: practicing in pools and enjoying the Springs in Florida and Georgia; and Camping: machete cutting roads back to the Suwannee River, fire building, improvising, survival skills…. Life lessons his children carry with them today.
John's father, Walter B. Fraser, passed to him the desire for preservation of historical properties, research, and education. As Curator of The Fountain of Youth, he continued the pursuit of archaeological excavation to carry on the process of discovery, winning him the Florida Archaeological Council's "Stewards of Heritage Award" for the preservation of the Fountain of Youth Site on May 3, 2002.
At the north end of St. George Street, he maintained the integrity of The Oldest Wooden School House as a building truly deserving of membership in The National Historic Trust. John's extensive travels and vision led to the building of a true Spanish style development, complementing Second Spanish Period Structures and rebuilding the famous Water Wheel at The Grist Mill.
Fraser's commitment to community was evident by his involvement as a Noble of Morocco Shriners, Member of Shriners International and as a Master Mason, Blue Lodge, St. Augustine York Rite Bodies.
In lieu of flowers, The Fraser family would welcome donations to Northeast Community Hospice in John's name to show appreciation to the giving organization that contributed to the happiness and comfort of the last two years of his life. The Fraser family would also like to personally thank Beverly Shrewsbury who worked tirelessly over the past four years to care for John and his well being.
Visitation will be held at 1 p.m. Monday, June 14, 2010, followed by the funeral service at 2 p.m. at Good news Presbyterian Church, 1357 Wildwood Drive, St. Augustine, FL 32086.
Craig Funeral Home Crematory Memorial Park is in charge of arrangements.
Photo credit: © 2010 Historic City News staff photographer
Share your thoughts with our readers >>