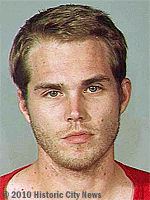 Media Relations Officer Kevin Kelshaw reported to the Crime Patrol desk at Historic City News that the 26-year old transient who has been sought for three months in connection with the disappearance of a 45-year old South Ponte Vedra Beach woman, is back in St. Johns County today.
St. Johns County Robbery Homicide Detectives escorted the suspect, identified as Joseph Dean Roberts, 26, from Seattle, Washington, to Orlando, Florida where they arrived earlier today.
Roberts was transported to the St. Johns County Jail where he was booked at 9:34 a.m. this morning and charged with vehicle theft and remains in jail in lieu of $500,000 bond. He will have a first appearance hearing tomorrow morning.
Roberts was arrested in Seattle, Washington, on a shoplifting charge Tuesday afternoon.
A computer check revealed the outstanding warrant out of St. Johns County and he was held on that felony charge as well as the retail theft charge.
St. Johns County Detectives were dispatched to Seattle to interview Roberts in connection with the disappearance of 45-year old Brittany Tavar. She had been missing since early July and Roberts was named a person of interest in her disappearance when he was stopped while driving her car in Wyoming before she was reported missing.
Following the interview with Roberts, Detectives in St. Johns County responded to a wooded area off SR-207, near Lightsey Road, and located human remains in an advanced stage of decomposition.
The scene was processed and the remains were transported to the District Medical Examiner's Office. From there they went to the Forensics Lab at the University of Florida for additional evaluation. A positive identification of those remains as well as the cause and manner of death are still pending.
Additional charges against Roberts are pending further investigation.
Photo credits: © 2010 Historic City News staff photographer and King County Sheriff's Office contributed photograph
Share your thoughts with our readers >>