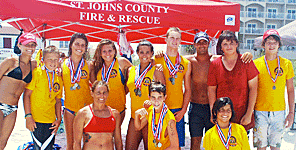 St. Johns County Fire Rescue reported to Historic City News that local Junior Lifeguards joined junior guards from around the region in an annual competition held in Jacksonville Beach last Saturday.
Junior Guards from Nassau County, Fernandina Beach, Jacksonville Beach and Flagler County competed as individuals and as teams in this event that showcases many different skills lifeguards use to improve their rescue skills in the aquatic environment.
The team of teenagers from St. Johns County was made up of several Junior Lifeguards that had just completed annual Junior Lifeguard camp. The camp was held during the first three weeks of July and focuses on teaching campers the importance of safety in the water, rescue techniques and many other skills the lifeguards use on a daily basis to protect our beaches.
As part of the camp sessions, students trained for the competition events in an effort to prepare them for the regional competition skills challenges.
The St. Johns County competition team consisted of seven junior guards, one photographer and three coaches. The competitors participated in seven challenges with medals awarded for the top three finishers in each division. The divisions were broken up into three age brackets: 9-11, 12-13 and 14-15. At the conclusion of the competition, the St. Johns County team brought home a total of 26 individual and team medals including 8 Gold, 11 Silver and 7 Bronze medals.
Individual results for the local Junior Lifeguards are as follows:
Distance Beach Run: Joey Corrado (15) – Silver, Kristen Dagher (14) – Gold
Distance Ocean Swim: Joey Corrado (15) – Gold, Walter Kennedy (15) – Silver, Nick Kelley (11) Bronze, Cassidy Smith (15) Gold, Emily Puttick (15) Silver, Kristen Dagher (14) Bronze
Paddleboard Race: Walter Kennedy (15) Gold, Joey Corrado (15) Silver, Emily Puttick (15) Gold, Kristen Dagher (14) Silver, Harrison Dagher (12) Bronze
Buoy Rescue Race: Joey Corrado (15) and Walter Kennedy (15) Gold, Cassidy Smith (15) and Alec Yeoman (14) Silver, Harrison Dagher (12) and Nick Kelley (11) Bronze
Run – Swim – Run: Joey Corrado (15) Gold, Walter Kennedy (15) Silver, Emily Puttick (15) Gold, Kristen Dagher (14) Silver, Nick Kelley (11) Bronze
Swim Relay Race: Silver medal team of – Joey Corrado, Walter Kennedy, Cassidy Smith, Emily Puttick and Kristen Dagher
Beach Flags: Walter Kennedy (15) Bronze, Emily Puttick (15) Gold, Cassidy Smith (15) Silver, Kristen Dagher (14) Bronze
Photo credits: © 2010 Historic City News staff photographer
Share your thoughts with our readers >>