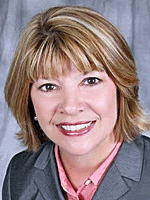 Historic City News received word that Karen R. Stern has announced that she will make an attempt to reclaim her seat on the St. Johns County Board of Commissioners for District 2 — a seat she lost to one-term incumbent and current Chairman Ronald F. Sanchez in the November 2006 election.
Unless she chooses to pay the filing fees of $3,844.26 during qualifying week, Noon, June 14th through Noon, June 18th, Stern will need to collect 1,317 petition signatures from registered St. Johns County voters. If a candidate meets the petition requirements they are not required to pay the qualifying fee or party assessment.
According to records on file with St. Johns County Supervisor of Elections, Penny L. Halyburton, Stern has properly registered as a Republican candidate by filing the necessary forms and disclosures to begin the process of campaigning for office; including soliciting campaign contributions. Stern was required to file an appointment of campaign treasurer and designation of depository for her campaign contributions and expenditures.
So far, Stern will face opposition from Ben W. Adams, Jr., Randy Brunson, and Ronald F. Sanchez in the Republican primary election to be held on August 24, 2010. If Merrill Paul Roland qualifies in June, he will face the winner of the Republican primary as an Independent, with no party affiliation, as well as any Democrat that may emerge, in the General Election held on November 2, 2010. Alan Kelso withdrew from the District 2 County Commission race to pursue the Florida House seat for District 20.
At the Florida Elections Commission meeting May 5th and 6th, 1999, held in Orlando, the Commission confirmed two automatic fines levied against Stern:
Karen Stern F-98-433 H Motion for No Unusual Circumstances Automatic Fine $150 Vote: 4-1
Karen Stern F-99-019 H Motion for No Unusual Circumstances Automatic Fine $500 Vote: 4-1
At the Florida Elections Commission meeting August 25th and 26th, 1999, held in Tampa, Stern asked for a rehearing on case F-99-019 H, however, the motion for rehearing was denied by the Commission on a vote of 7-0. Stern entered a motion to offer a payment schedule for her fines; based on serious illness of husband.
In an August 8, 2008 article written by Mark Pettus, The Ponte Vedra Recorder published a story about an election complaint against Stern and three others that asked the Elections Commission to investigate whether Stern had accepted "aggregate contributions in excess of the $500 limit from related or co-owned organizations located at the same address".
The complaints were filed with the Commission by disbarred lawyer and present St. Augustine activist Edward Adelbert Slavin, Jr. and none of them were sustained after investigation.
At issue was the language of Statute 106.08 which states that no "person" can donate more than $500. F.S.106.11 defines a person as, "an individual or a corporation, association, firm, partnership, joint venture, joint stock company, club, organization, estate, trust, business trust, syndicate, or other combination of individuals having collective capacity. The term includes a political party, political committee, or committee of continuous existence".
Stern had reported payments from officers and employees of the same company and multiple companies listed at the same business address in her financial reports, however, it was never shown that any individual person or individual corporate entity contributed more than the allowed $500.00.
Stern had little to say to Pettus for his article according to his published quote, "I'm not guilty of anything, so I don't feel like I have to sit and defend myself," Stern said, adding she was disappointed the Recorder was planning to report on the investigation. "This is under investigation, which I think should mean it's hands off."
Photo credit: © 2010 Historic City News contributed photograph
Share your thoughts with our readers >>