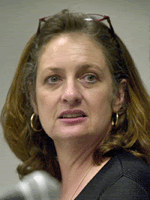 Barbara Petersen, president of the Florida First Amendment Foundation, has alerted local news and media organizations of pending legislation, expected to be considered next week, that would block the release of 911 tapes and exempt them from Florida's public records laws.
Peterson has labeled the bill the "Tiger Woods Relief Act", linking it to the release of calls to 911 following Woods' November car crash outside of his home. Some 911 recordings have revealed negligence by emergency responders.
Open records advocates, including the Florida First Amendment Foundation, along with Governor Charlie Crist, quickly voiced their opposition to the bill that was proposed by Representative Robert Schenck, (R), Spring Hill. Crist said he favors keeping the tapes as public records.
Schenck says he wants to protect victims. If the bill becomes law, 911 recordings would not be released. Transcripts of the calls would be available to the public, but it might take up to 60 days. Schenck said his proposal protects victims' privacy while maintaining watchdog abilities.
Share your thoughts with our readers >>