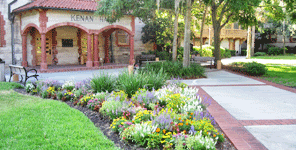 Flagler College reported to local reporters at Historic City News that Kenan Hall Plaza is undergoing a dramatic architectural change that will provide students, faculty and staff a new gathering space that will be completed later this month.
Sharon Fowler of Hauber Fowler & Associates, a landscaping architectural firm that has worked with the College for the past five years, designed the layout.
The plaza project is designed to host a variety of seating and gathering opportunities including special events, student events, alumni events and theater-style seating for presentations, lectures and movie nights.
Movable tables, chairs and umbrella tables will be installed, and the new plaza will be surrounded by a combination of benches, stone planters and columns. The columns will be constructed of materials to match Kenan Hall, but will also be the location for electrical outlets, lighting, speakers and plaques.
Tall Dactylifera Palms will be planted, which will provide shade. The palms will frame the views of Kenan Hall and will separate pedestrian traffic patterns. The palms will also be adorned with uplights, which will provide dramatic lighting of the surrounding area in the evenings.
A rampant lion in a crest – the Flagler College insignia – will be inlaid in the center of the plaza.
Some of the unique site engineering features include electrical duplex outlets on the columns for notebook computers, electrical floor outlets for events and a sound system, if desired.
For formal events, the plaza will be able to accommodate 240 seats for presentations, lectures and movie nights or 304 folding chairs.
Larry Weeks, the director of business services and campus planner at Flagler College, said the new plaza has many benefits.
"One of the main purposes for this project is to provide a larger gathering space for the students in between classes," Weeks said. "Typically, you see many students huddled outside of Kenan Hall, and this makes it difficult for people to walk through that area."
Weeks said one of the unique aspects of the renovation will be the installation of permeable pavers.
"Installing permeable pavers will allow water to soak through them [pavers] and percolate into the ground," he said. "Typically during a rain, water stands. We are creating a multi-level base of rock which will enable the water to soak into the ground. It's a new concept that the city of St. Augustine is very interested in for their purposes."
Weeks also said he is excited to have the project completed before the students return in the fall since Kenan Hall is used for both classrooms and faculty offices.
"We're hoping that this project will be complete by the time the students return to campus," he said. "It will be a wonderful surprise for them."
Photo credits: © 2010 Historic City News staff photographer
Share your thoughts with our readers >>