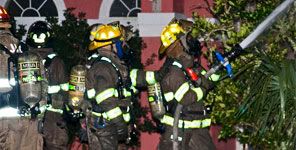 Just after 8:00 p.m. last night, Historic City News freelance photographer Christopher Kimball reported to the St. Augustine local news desk at Historic City News that a house fire that burned for several hours could be easily seen from A1A.
According to records from the St. Johns County Property Appraisers' Office, Igor Znamenok is the owner of the home built in 1990 at 38 Marshview Drive — between Ocean Trace and Dondanville roads.
Crews worked both inside and out to bring the fire under control while crowds of curious neighbors stood by and watched as fire fighters struggled to extinguish the blazing house fire on Anastasia Island.
One neighbor told our reporter "The house is empty. No one is living there right now." He also stated "I heard a noise and looked out my window to see flames coming from the house."
The 2348 square-foot house was reportedly unoccupied when it caught fire Wednesday night, sending flames high into the air before firefighters were able to contain the blaze. Neighbors say that new renters were getting ready to move in.
St. Johns County Fire Rescue spokesman Jeremy Robshaw said "The roof is primarily burned through, but the interior sections, there are still walls standing."
The structure was "significantly" damaged, but it could be listed as a total loss.
The investigation into how the home fire started is continuing by St. Johns County Fire Rescue and the state fire marshal's office. No injuries were reported.
Photo credit: © 2010 Historic City News freelance photographer Christopher Kimball
Share your thoughts with our readers >>