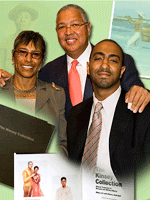 Local Historic City News reporters have learned that St. Augustine native Shirley Pooler Kinsey may be the connection that some are hoping we need to lure The Kinsey Collection to participate as a visiting exhibit for the 450th commemoration period.
The Kinsey Collection, which recently completed a seven-month visit to Smithsonian affiliate Brogan Museum in Tallahassee, includes works of art by important African American artists as well as historical documents and artifacts of Benjamin Banneker, Frederick Douglass, Harriet Ann Jacobs, Zora Neale Hurston, and Malcolm X.
The ninety plus objects reveal important aspects of American history and culture, according to The Kinsey Collection website.
City Commissioner Nancy Sikes-Kline visited the exhibit while in Tallahassee, and brought word back to 40th Accord's Gwen Duncan, Fort Mose's Derek Hankerson, historian David Nolan and others, who are now searching for a suitable venue – and checking the exhibit's schedule.
They'll be competing with the likes of Washington's Smithsonian Institution, where the exhibit opens in October.
Bernard is a former Xerox vice president, who became chief operating officer and co-chair of Rebuild Los Angeles in 1992. He and Shirley have amassed their collection over more than 35 years. Bernard and Shirley Kinsey started collecting as a way to share their travels, but it soon became a repository for African American intellectual, historic and artistic works.
Share your thoughts with our readers >>