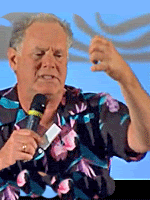 Local news reporters at Historic City News have learned that Michael Klubock will serve as the guest speaker and will lead a beach clean-up during the Friends of A1A Scenic & Historic Coastal Byway's first Environmental Education Fair on Saturday, May 1st.
Klubock is the Founder and Executive Director of the Malibu Foundation for Environmental Education and his specialty is inspiring youth to become good stewards of the coastal environment.
The event, which is from 9 a.m. to 4 p.m., will be at the University of Florida Whitney Labs on the west side of SR A1A in the Town of Marineland. Registration for the free event begins at 8:30 a.m. and it is expected to draw 500 persons, ranging from environmental advocates to families and children.
Klubock said he shares with his audiences the impact that carelessness – such as leaving broken lawn chairs on the beach or cutting fishing line and tossing it into the ocean – can have on the coastal environment.
"Litter is a thing that is visible," he said. "If people realize that one piece of trash has importance, that's one more level of protection. We have to honor and appreciate the beauty of our environment and with that love and beauty comes protection."
In the afternoon, Klubock will lead the event participants on a short beach clean-up that will conclude with an aerial fly over to photograph the event.
Other activities will include 14 indoor and in-the-field workshops, 40 exhibitor and vendor booths, science fair projects, environmental activities, storytelling, a treasure hunt, face-painting and music.
Friends of A1A is a non-profit organization that implements the corridor management plan for improvements along the 72-mile Scenic & Historic Coastal Byway through St. Johns and Flagler counties.
The Master of Ceremonies will be Frank Gromling, an author, radio host of "Cover to Cover" on WNZF and publisher for Ocean Publishing in Flagler Beach. Others expected to be on hand at the Fair are the Mayor of Marineland, Jim Netherton, and the President of Friends of A1A, Barbara Jenness.
Environmental Education Fair
Box lunches ($5) and beverages will be available on-site for a nominal charge. Children must be accompanied by an adult.
For more information about the Environmental Education Fair please call the Friends of A1A at 904.425.8055 in St. Johns County or 386.585.3679 in Flagler County.
Friends of A1A Scenic and Historic Coastal Byway protects, preserves, and enhances resources along the A1A National Scenic Byway. This citizen's advocacy group partners with municipalities, governmental agencies and other civic groups to maintain and improve resources along the corridor.
Designated in 2002, the Byway is rich in history, nature, archeology, culture, scenery and recreation. The Friends of A1A's efforts benefit residents and travelers alike by maintaining the identified intrinsic resources while allowing economic development.
Share your thoughts with our readers >>