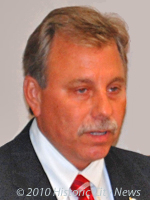 In a joint media conference held today, Historic City News has learned that local State Attorney R.J. Larizza will prosecute the case against three Louisiana fugitives in the death of 29-year-old Vincent Binder; whose body was discovered in a field off SR-16, west of I-95.
Also today, St. Johns County District Medical Examiner Dr. Terrence Steiner confirmed that the unidentified deceased body found two days ago is Binder — a Florida State University graduate student. "The manner of death is consistent with homicide," Steiner said.
Given the active investigation and the pending prosecution, information about the specific cause of death will not be released at this time.
FDLE and the St. John's County Sheriff's Office are conducting the homicide investigation.
After friends reported Binder missing on April 8th, the Tallahassee Police Department's Special Victims Unit began reviewing Binder's phone and financial information. The review led investigators to Miami where they were notified by the South Florida U.S. Marshals Violent Fugitive Task Force that a stolen pickup truck believed to be used by three prison escapees from Louisiana had been located.
The U.S. Marshals apprehended the escaped prisoners on April 12th and investigators linked the three fugitives to Tallahassee — and possibly to the disappearance of Binder.
Investigators later received information from one of the fugitives that further linked them to Binder's disappearance. Since the fugitives had traveled throughout the state, the Florida Department of Law Enforcement (FDLE) was asked to assist in the investigation.
Photo credit: © 2010 Historic City News staff photographer
Share your thoughts with our readers >>