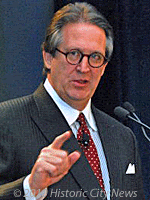 The St. Augustine, Ponte Vedra and the Beaches Visitors and Convention Bureau informed Historic City News reporters that they will host a must-see event for everyone with an interest in tourism on Tuesday, May 18th.
The midday event at the St. Johns County Convention Center will feature a presentation by Peter Yesawich, one of the world's leading authorities on tourism marketing.
Yesawich is a featured commentator on CNN, CNBC, MSNBC, BBC and National Public Radio. He is also a contributing writer on travel trends for such publications as The New York Times, The Wall Street Journal, USA Today, Time, Newsweek and Business Week, and a frequent columnist in major travel trade publications.
Most recently, Yesawich co-authored the highly acclaimed Ypartnership/Harrison Group 2010 "Portrait of American Travelers".
His May 18th presentation will reveal the latest trends in tourism and discuss how the local tourism industry can take advantage of new opportunities for successfully marketing our destination to potential visitors.
Yesawich is the chairman and CEO of Ypartnership, the new advertising agency responsible for marketing St. Augustine, Ponte Vedra and the Beaches to potential visitors — both nearby and internationally. Ypartnership is considered to be one of the world's most successful and innovative tourism marketing agencies.
Following his talk and a Q&A session, an update on recent progress in developing an enhanced destination identity for the destination will be presented. In addition, samples of advertising that support this new effort will be on display.
The winners of the 2010 Tourism Employees of The Year awards will be announced and introduced at this event.
The entire program will run from 11:00 a.m. until 1:00 p.m. and lunch will be served.
There is an admission charge of $15. Attire is business casual. The St. Johns County Convention Center is located at World Golf Village, I-95 exit 323.
Photo credit: © 2010 Historic City News contributed photograph
Share your thoughts with our readers >>