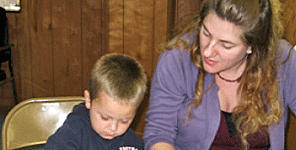 Local reporters at Historic City News have learned that Elkton resident, Gina Marie LeBlanc, a former Education Specialist for the Anastasia Mosquito Control District who resigned in 2009 to care for her infant son, is now running for Seat 4 on that board.
Seat 4 is currently held by John Sundeman; who has been at the center of attention and center of controversy since his election to the District in 2006. Sundeman, an accountant, raised over $13,000 and defeated opponent, Dr. Tim Chiu, in that race. As of noon today, Sundeman has not filed to seek re-election.
LeBlanc earned a Bachelor of Science Degree in Biology and has held a Mosquito Control License (Public Health Pest Control) since 2006. She has over 5 years experience as a public school science teacher and over 3 years experience as Education Specialist with Anastasia Mosquito Control District.
According to her website, LeBlanc is running on a platform that includes no increase in millage, an increase in business efficiency, a reduction in service call response time, the promotion of environmentally-friendly control methods and techniques as well as best management practices for integrated pest and mosquito management.
LeBlanc says that she wants to increase research that will improve overall program effectiveness of the daily operation, save money by implementing more technology to increase program efficiency, support continuing education program to improve customer service and increase community outreach programs.
Share your thoughts with our readers >>