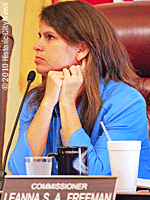 Editor:
The issues relating to our scheduled trip to Spain have required far too much of the city's time and resources.
The simplest solution to the current controversy is for me not to participate and for Vice Mayor Jones to represent the Commission.
I fully support and appreciate those who demand government transparency and compliance with our Sunshine Laws.
However, given our completely legal agendas and history of non violations during past trips, I believe the reaction to the current trip has ultimately hindered our ability to maintain and develop further relations and programs with our foreign partners.
I am the City Commission's representative for the St. Augustine Sister Cities program.
I have been a supporter of sister city relations for over 20 years when I worked with Jacksonville's sister cities and Nantes, France. The relationship with Avilés and other Spanish cities have enhanced our community in areas of history, education, economy and the arts, so I regret that at this time I will not be able to fully execute my responsibilities and missions which I had planned.
The timing of the trip came at an inconvenient time for me personally with my children's first week of school and my son's soccer tournament. When I agreed to go on this trip I was confident that our efforts would be productive and beneficial to our community as a whole, and I still feel that way.
Nonetheless, my time will be well spent here at home working on our $50 million budget and resolving local issues which must take priority over this controversy.
Leanna Freeman, Commissioner
City of St. Augustine, FL
Photo credits: © 2010 Historic City News staff photographer
Share your thoughts with our readers >>