Editor:
Roy Alaimo, president of the St. Johns County Young Republicans, and I went to the Duval County Republican Executive Committee today for a "meet and greet" with gubernatorial candidate Attorney General Bill McCollum and his wife Ingrid.
Also attending were Governor Mike Huckabee, Senator John Thrasher, Florida Senate President elect Mike Haridopolos, Rep. Adam Hasner, and Holly Benson candidate for Florida Attorney General.
Former Arkansas Governor Huckabee spoke very highly of Attorney General McCollum and says that his support for McCollum is based on personal reasons and shared values.
Huckabee currently hosts the Fox News Channel talk show Huckabee. He was a candidate for president in 2008. Huckabee finished second in delegate count, third in popular vote and third in number of states behind John S. McCain and Mitt Romney in the 2008 United States Republican presidential primary.
Huckabee is the author of several bestselling books, an ordained Southern Baptist minister, musician and a public speaker. He is also an ABC Radio political commentator. Hucakabee is associated with a movement that supports the Fair Tax.
He is opposed to the current federal income tax system and any discussion of a value added tax (VAT) that applies to every transaction is the European Union. Huckabee calls the VAT the 'cost added tax'.
Huckabee, who moved to Florida earlier this year, said he had already voted for McCollum during early voting and contrasted McCollum's long record of public service with Scott's lack of one.
Huckabee emphasized that he doesn't vote for a candidate because they are a Republican, or because he likes their policies. Rather, the former Arkansas governor said he backs people with whom he has a shared value of god, family and country.
Huckabee served as the pastor of a Baptist church in Texarkana, AK. Rasmussen and Gallop polls show that Huckabee is one of the leading contenders for the 2012 Republican Presidential nomination, ahead of Mitt Romney and Sarah Palin.
Regarding a possible run for the Presidency in 2012, Huckabee said, "I'm not ruling anything out for the future, but I'm not making any specific plans".
Television, print and Internet media from across the state covered the event which included a media question and answer session with both Bill McCollum and Mike Huckabee.
Gary Bruce, President
Republican Club of Greater St. Augustine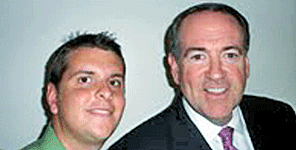 Share your thoughts with our readers >>